10 / 366 – Sometimes (not regularly enough I must admit), I go for a walk around the block with some colleagues. On the way we pass the Luas Bridge in Dundrum. Walking along the Upper Churchtown Road I noticed the remains of some metalwork stuck in a pillar. It looks like it once spelled a word or name but for the life of me I haven't been able to figure it out.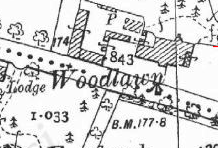 I did a bit of digging on the web and came across the Ordinance Survey Ireland (OSI) Mapviewer website and was able to look back through some historic OS maps.
According to the 1887-1913 maps there was once an estate called Woodlawn. Looking back at the earlier 1837-1842 it looks like it had previously been called Churchtown Cottage or Taney Lodge.