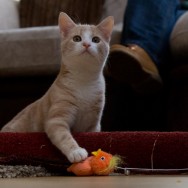 8 / 366 – Went to go visit Helen & John today and as usual Max the Cat was the centre of attention.
A great little character, he spent the whole time chasing a stuffed toy attached to the end of a string and causing much amusement to the humanoids.
I am pretty sure that he will be the subject of future posts as the year progresses.